A classic Ferrari is set to sell for £1.27million at auction despite it being just a burnt out shell.
The vintage red motor caught fire after a crash 59 years ago.
The 1954 Ferrari 500 Mondial Spider doesn't even have any wheels or interior.
All that remains is the crumbled metal and a replacement engine.
The model in its prime could do 0-60mph in just 5.9 seconds and boasted a top speed of 146mph.
But it is being described as an "intriguing restoration project" for a car enthusiast.
The 1954 Ferrari 500 Mondial Spider for sale (Credit: Jam Press/Darin Schnabel/Courtesy of RM Sotheby's)
The Ferrari is being sold by RM Sotheby's among 20 cars in its Lost and Found collection – which it has dubbed the "Ultimate barn find."
The car was used in track races in Europe including in the Imola Grand Prix, in Italy the year it was made.
It was then exported to the US.
The listing reads: "In 1958, the 500 Mondial was exported to the United States, and four years later it was sold from R.W. Devereau of San Francisco to Hal Rudow of Washington, who raced the spider at the Evergreen Trophy race at Pacific Raceways in October 1962.
Shell of Ferrari from another angle (Credit: Jam Press/Darin Schnabel/Courtesy of RM Sotheby's)
"A year later Rudow sold the car to Stanley Surridge, and he replaced the original engine with an American V-8, a common practice at that time.
"At some point over the following two years of racing activity the Mondial was crashed and suffered fire damage."
It added: "By the early 1970s the Ferrari was acquired by marque specialist Ed Niles, who soon sold it without an engine. After briefly passing through two Maryland-based ownerships, the spider was sold to Walter Medlin by 1978.
"The Mondial has since been preserved in its race-damaged condition, accounting for 45 years of seclusion from the collectible Ferrari niche.
"The car continues to wear its factory-issued chassis plate, and it is accompanied by components including a period-correct Mondial engine from another car, rear-axle corners, and its matching-numbers gearbox.
The 1956 Ferrari 250 GT Coupe Speciale also for sale in auction (Credit: Jam Press/Darin Schnabel/Courtesy of RM Sotheby's)
"Once properly refurbished, the spider promises to deliver the thrilling driving experience of Lampredi's inline-four—that diminutive powerplant responsible for so many victories by the Scuderia Ferrari.
Rob Myers, RM Sotheby's CEO, said: "While a select group of Ferrari collectors knew about the existence of these extraordinary cars, the rest of the world remained unaware.
"This represents a once-in-a-lifetime opportunity for enthusiasts to acquire these iconic Ferraris, some of which have participated in renowned races.
"Most of these lost Ferraris remain untouched, preserving their purity and original condition since the day they were acquired—a true embodiment of the 'barn find' concept.
It is the first time that RM Sotheby's has presented a barn find collection of this magnitude to the market."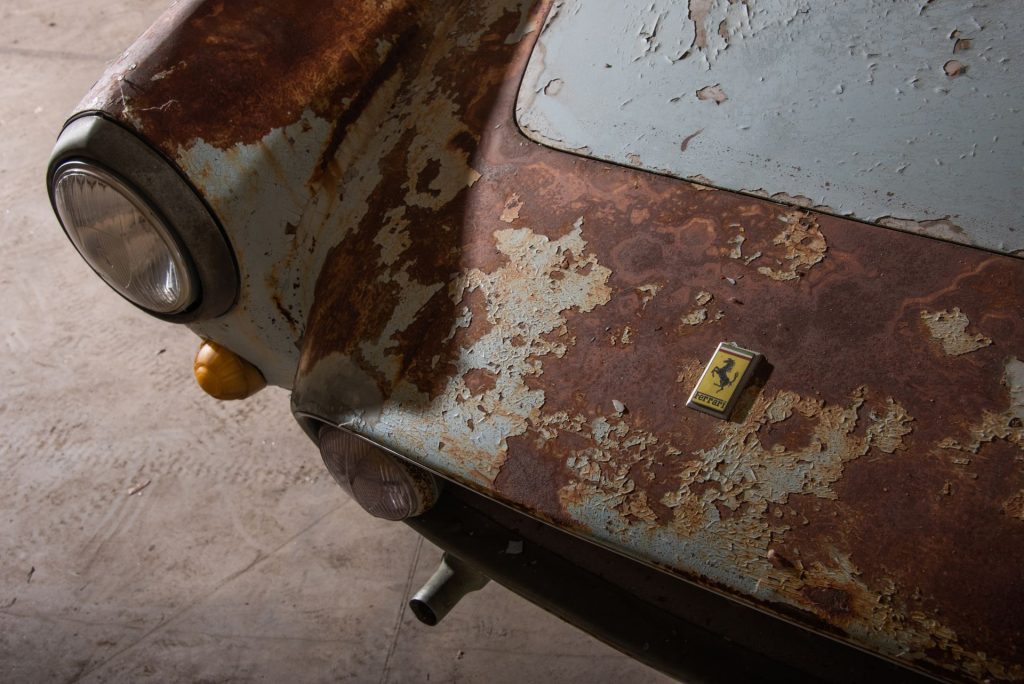 Close up of the 1956 Ferrari 250 GT Coupe Speciale (Credit: Jam Press/Darin Schnabel/Courtesy of RM Sotheby's)
The estimate on the 1954 Ferrari 500 Mondial Spider is up to £1.27million ($1.6million).
The auction takes place between 17 and 19 August in Monterey, California, US.
Among the other lots is a rusty 1956 Ferrari 250 GT Coupe Speciale by Pinin Farina tipped to go up for up to £1.8million ($2.3million).
There is also a 1978 Ferrari 512 BB Competizione for £2.2million ($2.8million) and a 1965 Ferrari 275 GTB/6C Alloy £1.98million ($2.5million).